7/07/12
While purusing Pinterest I clicked on a link, that led me to a link, that led me to a link, that led me here, to Barnes & Noble. They are have a Summer reading program that will allow kids to earn a free book. So I copied it and wanted to share it. Also if you bring in proof of being a registered Homeschool, the verification is the info your state sends you verifying your school, show it at the checkout, you will get a little form to fill out, then you get a card that gives you 20% off all purchases at B & N. That applies to sales and Clearance as well I believe.
So now Gidget is excited to earn her FREE book. Here is the info I copied;
Barnes & Noble Summer Reading

Kids Earn a Free Book!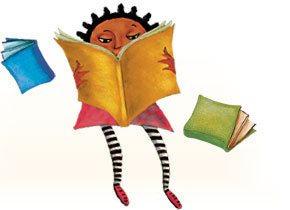 Here Is How:
Step 1.

Step 2.

Step 3.
Read any 8 books and record them in the
Reading Journal
(PDF)
.
Bring the completed Reading Journal to your local B&N store.
Find a Store
.
Choose a FREE BOOK from our selection on the Reading Journal list at the store... Enjoy reading!
So what are you waiting for?? Get your kiddos to reading and earning their FREE book.